Activity
Home
All
,
Portfolio News
Y Combinator Gathers 800 Startup Women to Jumpstart Gender Equality in Tech
Beloved seed accelerator Y Combinator hosted its second annual Female Founders Conference this Saturday, gathering 800 startup-type women in hopes of jumpstarting future gender diversity in the technology sector.
REAL LIFE. REAL NEWS. REAL VOICES.
Help us tell more of the stories that matter from voices that too often remain unheard.
Y Combinator partner and conference co-host Jessica Livingston expressed on stage that in encouraging more female founder applicants to the program, Y Combinator (YC) hopes to see more successful female founders running tech startups, "so that when a 15-year-old girl or a recent college graduate looks out there and says, 'What do I want to do when I get older? Or 'What do I want to do now?', [she has] more role models of female, founding CEOs of tech companies."
The conference, taking place at the California Masonic Memorial Temple in San Francisco, was headlined by all-female YC speakers, including founders and partners, offering biographical and advice-focused talks, capped off with tips on how to pen an eye-catching YC application. Speakers focused on how they found success as founders and how they overcame pitfalls along the way.
Mattermark co-founder and CEO Danielle Morrill shared personal stories from her Series A raise of $6.5 million, in which she pulled in a party round with 155 investors, all while running a 10-person startup out of her apartment until the building served her a cease and desist letter, forcing her employees to work from home for months until the round was closed. "Talk about impostor's syndrome, I was an impostor," Morrill exclaimed, noting that raising a Series A without an office, while trying to act like "a really rich tenant with a lot of contractors coming in and out" of your apartment is a handful.

An all-female audience at a tech conference is a rare occurrence.
While much of the talks were pragmatic and sometimes inspirational in nature, an unexpectedly touching moment came when Tracy Young, PlanGrid founder and director of operations, shared the best advice she has ever been given and the advice she wish she would have known before starting her founder's journey. The best advice she had ever received came in the form of four sentences shared with her by PlanGrid co-founder and cancer victim Antoine Hersen while he was on his deathbed, "Life is short. Take care of Ralphie [the ones you love]. Don't be afraid to try new things. Never do anything that makes you unhappy." Young elaborated on each point, relaying personal stories as if she were having a heart-to-heart with a good friend.
Young captivated the audience with her stories, sending the audience into laughter at times and inspiring tears at others, showcasing what it means to be a true leader, not afraid to share her deepest, most painful lessons with those willing to listen and learn. The second portion of Young's talk, equally insightful but comical and light-hearted, was based on the activity she says she spent the past 6 years doing when she wasn't founding PlanGrid: "Watching a lot of BBC nature documentaries." She implored attendees to always live their lives bringing out their inner beaver and honey badger. Beavers, she explained, are "just nice, vegetarian builders, just like me!" They're half-blind and really small with a lot of predators, including humans who "try to trap them and skin them to make stupid hats out of them." So, they build to protect themselves — they build massive dams out of massive trees to protect themselves and their families. In doing so, they choose only the best materials and continue to rebuild as their environments change, she explained. Sounds a lot like startup life, right? Young advises, inspired by the beaver, "Work hard, be patient. Don't complain. Obsess about every stick. Iterate and improve."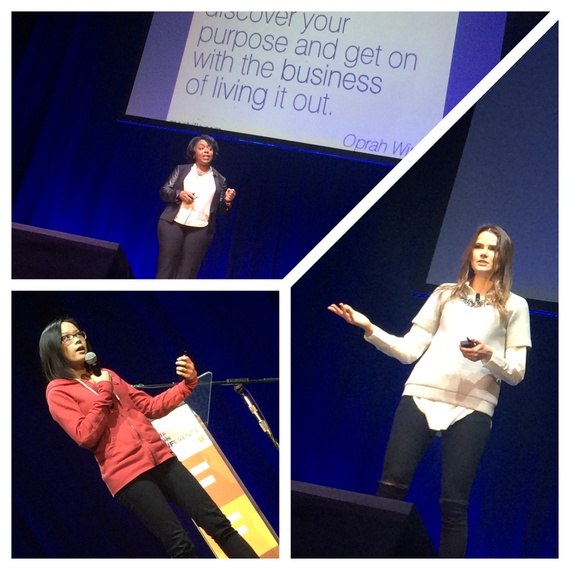 Clockwise from top: Founders Kimberly Bryant (Black Girls Code), Olga Vidisheva (Shoptiques), and Tracy Young (PlanGrid)
Honoring the honey badger, Young pointed to many brave acts of nature's most courageous creature, including its ability to survive the bites of poisonous snakes. "If me and you get bitten by a poisonous snake, we will die, but if the honey badger gets bitten by a poisonous snake, it passes out for 8 to 10 hours — we don't know why — and it will just wake up and eat that snake!" The honey badger teaches us to just survive, Young says. "Stand up for yourself, and be brave." Last but not least, honey badgers support their families, Young says. When you're an early-stage startup, you don't have a lot of money, time or resources, but you have your founders. Support each other and that will be your unfair advantage to the giants in your industry, Young says.
While it's tough to outline the lessons from all of the speakers, some of my favorite tidbits came in these tweetable nuggets:
"Own your purpose." and "The work of your life is to discover your purpose and get on with the business of living it." — Kimberly Bryant, founder, Black Girls Code, marrying advice from Jim Collins, author of "Good to Great," and Oprah Winfrey
"Scaling a startup is like being in a really awkward car race, where when you start at the start line, you don't get a nice car, you get the crappiest car that someone can find from the junkyard, and it barely turns on. But you are asked to drive it at 200MPH, along the way, fix it, and along the way, change all the parts, so that by the time you end the race, you suddenly have a Tesla." — Adora Cheung, co-founder and CEO, Homejoy
As Y Combinator gets serious about diversity, it seems that events like Female Founders Conference may inspire more women founders to not only apply to the accelerator's program, but also lead with greater confidence.
Dani Fankhauser, co-founder and CEO of ReadThisNext, a book recommendation platform, says her biggest takeaway from the conference was knowing her experiences were normal. "One of the women said she wakes up terrified every morning, another said she was a bad fit for a corporate job," says Fankhauser. "Hearing this confirmed I am doing the right thing by pursuing my startup, fully knowing the cost." Fankhauser, too, had planned on applying to YC prior to attending Female Founders Conference, but she says the event gave her "a better sense of how being part of the YC network would help my business and what types of ideas and people they are looking for." She says that she hadn't realized, for instance, how big cultural fit played a role in the application process.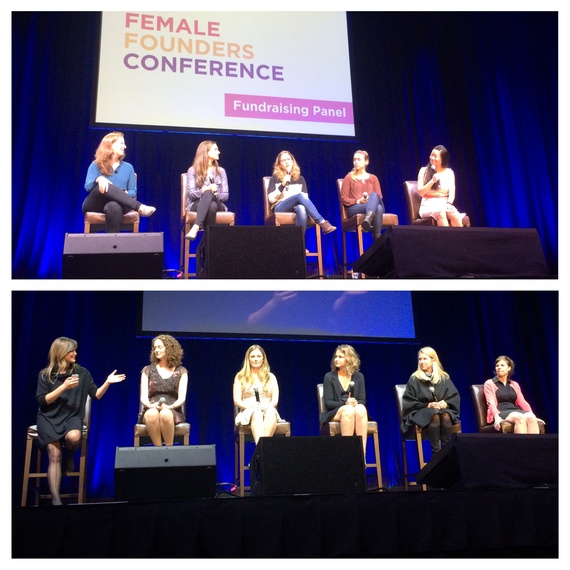 The conference featured two panels: One composed of former YC founders addressing fundraising concerns (top) and another crowdsourced Q&A
with YC partners (bottom).
Another attendee, Jade Wang, co-founder and president of personal cloud platform Sandstorm, attended both last year's and this year's conferences and says that what she learned last year was "definitely a strong contributing factor to pushing me over the edge to pull the ripcord" on founding her company. If last year was about information gathering, this year was about building a relevant network. "I met some amazing female founders whose SaaS apps get requests for on-prem deployment that they turn down — startups who have a problem Sandstorm can solve," says Wang." Since last year's conference, Sandstorm was not only funded, but it also "crowdfunded [nearly $59,000], raised a [$1.3 million] seed round, and started a community of passionate users," says Wang. "I really look forward to what the next year holds for the other women I've befriended this year."
As part of its diversity initiatives, Y Combinator began tracking female founder data on its most recent batch application, finding that 23% of applicant teams had a female co-founder and that 23% of accepted teams also had a female co-founder. This new data suggests, at the least, that its accepted batch is a reflection of its applicant pool. As YC is widely known as one of the premier breeding grounds for the world's most successful startup founders, let's hope its recent gender diversity initiatives lend way to more women founding and leading impactful companies.
Did you attend Female Founders Conference? If so, share your experiences in the comments below or tweet your takeaways with the hashtag #femalefounders.